Posted on January 30, 2018 by Michael Green
Canadians are proud of our universal health care system, but despite the money we spend on it, research shows that our country ranks at or near the bottom in international comparisons of timely, equitable access to appropriate care.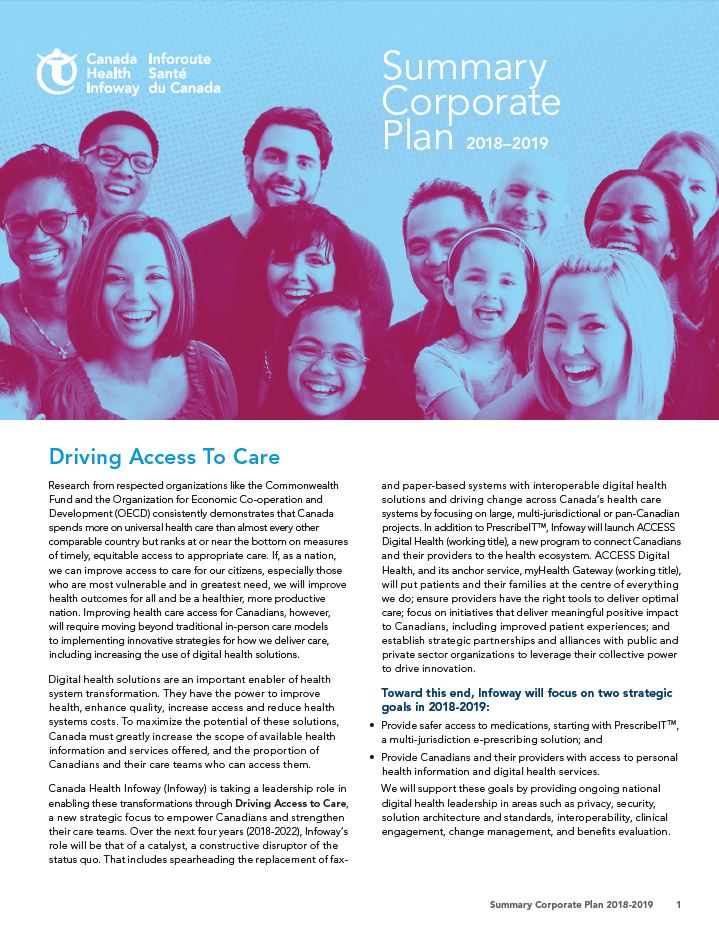 A study of 11 countries published by The Commonwealth Fund in July 20171 found that only 57 per cent of Canadians, on average, can get same or next-day appointments with doctors. Out of frustration, they go to hospital emergency rooms, where 29 per cent of them reported waiting four or more hours to receive attention. Sweden ranked lower at 20 per cent, while France ranked first, with only one per cent having to wait that long. In terms of online access to health information, such as viewing lab results, Canada ranked third from the bottom, with only six per cent of people able to do so, while France ranked first at 27 per cent. As for the ability to email a doctor with a question, Canada ranked last at four per cent and France was again first, at 24 per cent.
Canada needs to do better. We need to "flip the script" and improve access to care and access to health information for all Canadians, especially those who are most vulnerable and have the greatest need. Improving access will result in better health outcomes and healthier, more productive citizens.
Digital health solutions can help us turn things around, so Canada Health Infoway (Infoway) has developed a strategy called Driving Access to Care. Over the next four years (2018-2022) we will focus on large, multi-jurisdictional or pan-Canadian projects to empower Canadians and strengthen their care teams. We will:
Put patients and their families at the centre of everything we do;
Ensure providers have the right tools to deliver optimal care;
Focus on initiatives that deliver meaningful positive impact to Canadians, including improved patient experiences; and
Establish strategic partnerships and alliances with public and private sector organizations to leverage their collective power to drive innovation.
This is an ambitious strategy, so every year we will outline specific goals and performance expectations in our Summary Corporate Plan, which is essentially our business plan for the fiscal year. Our 2018-2019 Summary Corporate Plan defines two strategic goals, which are to:
Provide safer access to medications, starting with PrescribeITTM, a multi-jurisdiction e-prescribing solution; and
Provide Canadians and their providers with access to personal health information and digital health services.
We will support these goals by providing ongoing national digital health leadership in areas such as privacy, security, solution architecture and standards, interoperability, clinical engagement, change management, and benefits evaluation.
Our goals for 2018-2019, as well as our broader Driving Access to Care strategy, are aligned with the federal government's health care priorities, including tackling the opioid crisis, and addressing needs like homecare, mental health services and services for Canada's Indigenous Peoples. They are also aligned with the health care priorities of the provinces and territories.
We see Infoway's role as being a catalyst for change — a constructive disruptor of the status quo. It won't be easy to "flip the script" so Canada ranks at or near the top in international comparisons of timely, equitable access to appropriate care. But we are committed to leading the way by working with our government and other partners to maximize the potential for digital solutions to transform our health systems.
I invite you to read our 2018-2019 Summary Corporate Plan.
If you have any comments about the plan, I would love to hear from you!
---
[1] Mirror, Mirror: How the U.S. Health Care System Compares Internationally at a Time of Radical Change, The Commonwealth Fund, July 2017.
---
Michael Green is a strong leader and a creative, strategic thinker who has an international reputation and a proven track record of transforming health care through the use of digital health. He has leveraged international research and innovation to advance the digital health agenda, create jobs and stimulate economic growth in Canada. Michael has been President and CEO of Canada Health Infoway since August 2014.