Posted on August 8, 2017 by Michael Green
While remaining focused on our vision of healthier Canadians through innovative digital health solutions during the 2016-2017 fiscal year, we continued to evolve Infoway's approach to better serve Canadians.
For example, we made significant progress on Canada's e-prescribing service, signing early adopter agreements with two provinces and selecting a vendor partner. PrescribeITTM will enable community-based prescribers to electronically transmit a prescription to a patient's pharmacy of choice. It will be more convenient and efficient for patients and providers, and it will promote medication safety, including helping to combat Canada's opioid crisis. Infoway was proud to join more than 40 other organizations in signing a Joint Statement of Action to Address the Opioid Crisis, and we remain committed to supporting the federal government on this important health and social issue.
Other highlights from 2016-2017:
An estimated $19.2 billion in benefits have accrued to Canadians and our health system since 2007 as a result of investments in telehealth and telehomecare, drug information systems, diagnostic imaging and physician and ambulatory clinic electronic medical records;
Nearly 162,000 clinicians are now active users of electronic health record (EHR) systems, more than double the number from three years ago;
EHR data for 94.6 per cent of Canadians is now available to authorized health care providers and the individual; and
Consumer access to virtual care services (e-booking, e-visits, e-views and e-requests for prescription renewals) more than doubled in the past two years, from 6-7 per cent, to 14-22 per cent.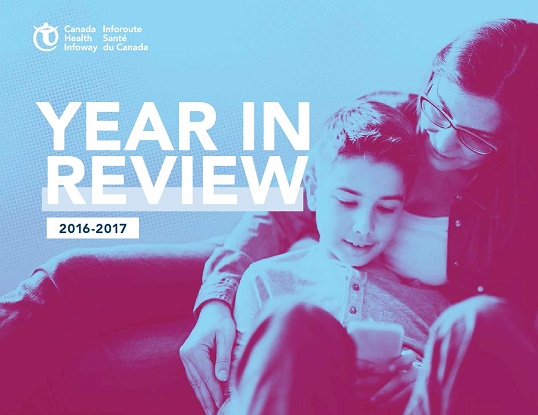 I invite you to learn more about these and other highlights from 2016-2017. You can also download the complete 2016-2017 Annual Report.
The annual report also includes details about progress against performance expectations for the year, as well as Management's Discussion and Analysis of Infoway's financial condition and results of operations, and the audited financial statements and Independent Auditor's report.
As we look to the future, we are grateful for Health Canada's continued support and confidence in Infoway, demonstrated by a $300 million investment in Budget 2017. This investment will enable Infoway to continue to move forward with initiatives to help transform the health care system through innovative digital health solutions and deliver better quality and access to care for all Canadians.
We believe digital health solutions can play a key role in ensuring the sustainability of Canada's health care system. We also believe that digital health solutions will continue to make a significant difference in the health, and the lives, of all Canadians.
Let us know what you think about the progress made over the past year and the initiatives that are underway. We would love to hear from you!
---
Michael Green is a strong leader and a creative, strategic thinker who has an international reputation and a proven track record of transforming health care through the use of digital health. He has leveraged international research and innovation to advance the digital health agenda, create jobs and stimulate economic growth in Canada. Michael has been President and CEO of Canada Health Infoway since August 2014.