How will we realize this vision? We are bringing together innovators, industry, governments, clinicians, patients and others. We will work together to resolve the challenges that have resulted in Canada falling behind peer countries in several key indicators of health care accessibility. Canadians want and deserve better. We need to act, and we need to act now.
While Infoway is leading ACCESS 2022, we have also set ambitious goals for our organization that will complement the movement. We are focusing on providing more Canadians with access to their personal health information and to digitally-enabled health services anytime, anywhere, from the device of their choice.
PrescribeIT™, is Canada's e-prescribing service that provides safer and more effective medication management and protects patients' personal health information from being sold or used for commercial activities. You can learn more about the significant progress on PrescribeIT in the PrescribeIT™ 2018 Update.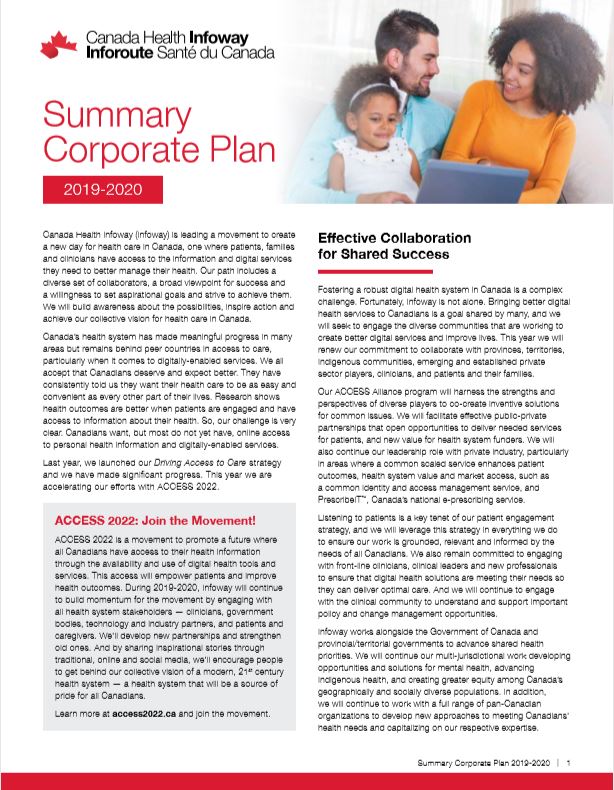 During 2019-2020, we have set 10 specific performance expectations, and we will work tirelessly to deliver on them. They will help us make incremental progress toward achieving our 2022 targets of:
Five million Canadians enrolled in patient portals and other virtual care solutions
Half of Canadians having access to virtual care
17,300 prescribers and 4,800 community pharmacies enrolled in PrescribeIT™
Infoway can't do this alone, of course, so we look forward to working with all of our stakeholders to transform Canada's health system into one that is modern and built for the 21st century. A health system that will be a source of pride for all Canadians.
Read our 2019-2020 Summary Corporate Plan to learn more. If you have any comments about it, I would love to hear from you!